Hello folks! Thanks for taking interest to know more about me.
I'm Jesin, a computer applications graduate with loads of passion in Linux, networking and web development.
I live in Chennai, India which looks like this on the map.
I love technology and have deep interest in learning things deeply. I take up certifications for the pleasure it gives me more than the career benefits gained from it. Completing a cert makes me feel like possessing the key of a treasure chest (full of knowledge) which is why I grab a certification whenever I can.
My Certifications
This is the recent IPv6 certification badge from Hurricane Electric.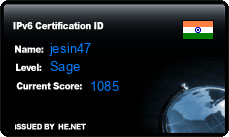 You too can get one by taking up a test here. It's totally free!!!
After I designed this WordPress theme you're seeing I became addicted to WordPress and have developed 3 plugins. All of them are available on the official WordPress plugin repository so you don't have to worry about them being malicious. 😉
To unwind I play games of the FPS genre on my PC. Some of my all time favorites are Bioshock (entire series), Hitman: Blood Money, Call of Duty (1, 2, MW and BO) and Batman: Arkham Asylum.
Use the contact form to ask me doubts and to give your precious suggestions.
To socialize and get updates from this blog choose one of these – Google+, Twitter, Facebook.
I also occasionally write for DigitalOcean a cloud computing provider.
About this blog
As much as I like learn stuff I also like sharing it with others which is why I started this blog. I write about whatever interests/fascinates me or something which made me lose my hair so that you can save yours.
Coming to what is behind the scenes this runs on some of the finest services on the web.
Hosted on a Linode Cloud Server running Nginx+PHP-FPM+MySQL on Debian Linux. Hosted on my very own Dell PowerEdge R610 server colocated at Constant Hosting. They're the company behind Vultr and Choopa. Hosted on a Hetzer Cloud server running on ServerPilot. CloudFlare is used only for DNS hosting.
And finally this entire blog was built with WordPress the most popular blogging platform on the web.